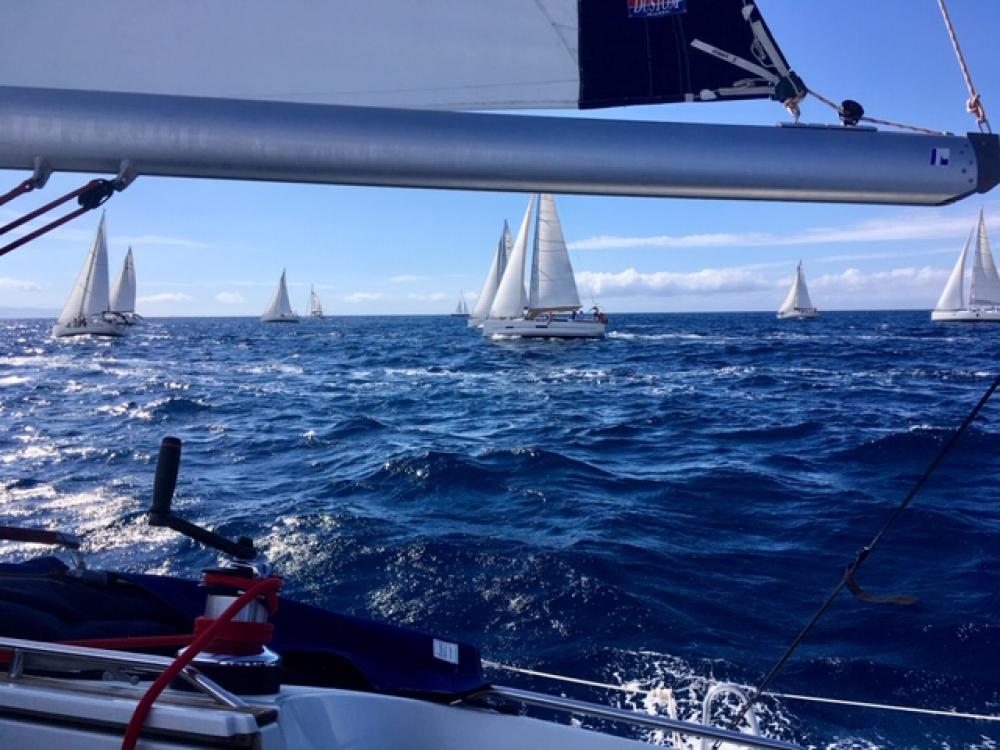 They say that a smooth sea never made a skilful sailor. You can take this as a motivation for many things in life, business is no exception. So at the beginning of this October, Amphinicy team had a chance to experience just that. Our team of 8 (from both Zagreb and Luxembourg office) participated at Ariane's Cup, the 39th traditional sailing cup of the European Space Industry, which for the first time ever took place at our beautiful coast.
Ariane's Cup was founded by two French, Jean-Claude Bourgeon and Roger Bouché-Pillon. Both worked in Arianespace, a multinational company headquartered in France, specializing in the launch of spacecraft. Their tradition of business sailing lasts almost from the very beginning, since 1979 when the company was founded. Still today, Arianespace is in charge of launching the European Space Agency (ESA) satellites.
First held in 1979 (La Trinité-Sur-Mer, France), every year members of the space industry race against each other in seas across Europe and the world and some of them can proudly say that they have sailed the waters of Granville (France), Saint-Malo (France), Stockholm (Sweden), Marstrand (Sweden), Palma de Mallorca (Spain), Portsmouth (UK), Les Grenadines (Caribbean Islands), La Martinique (Lesser Antilles) and many more.
This year's Cup was the first time that the sailing crews competed in the waters of the Adriatic Sea of the coast of Croatia. The cup featured 120 sailing boats and over 1000 crew members from the European Space Agency (ESA) and companies such as Airbus, Eutelsat, Daimler, Inmarsat, SES and Tales under the organization of the Business Sailing Experience Agency from Croatia.
The event was the perfect opportunity to network and share ideas in an informal setting with the European space family so we were happy to take the challenge and try out our skills at the big blue under instead the big blue above.
The base marina was beautiful and surprisingly peaceful Marina Baotić in Seget Donji, a small place near Trogir, where all the crews gathered on Saturday, October 6. The plan was that from there teams spread their sails and reach Pakleni Islands to finally turn back to Seget Donji.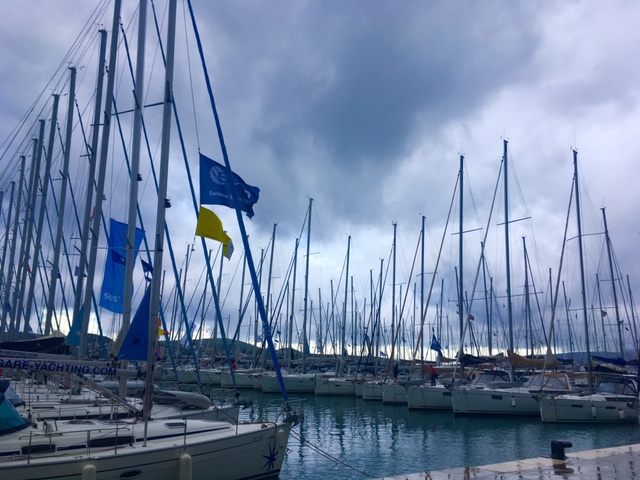 First day of the event was reserved for crew's arrival, registration, getting rail numbers, etc. Our company was the sponsor of the event so we prepared T-shirts for all the participants which we distributed and used this opportunity to greet every team. By the end of the day our team gathered in Trogir and we've met our skipper Goran who was the man of our "house" for the next 4 days. For most members of our team, this was the first time ever to sail and we couldn't wait to experience such an adventure.
The Marina Baotić was just the beginning of our "cosmic odyssey" on the Adriatic. On Sunday, October 7, we set our feet from the Marina Baotić and caught a good wind on our way to Palmižana, a five-hour sailing route. It was a perfect day for sailing, especially because Saturday and Sunday morning were scheduled for heavy rain which got us all pretty wet just before we untied our sailboats for the first time. As we were approaching Pakleni Islands we were amazed by the beauty that can probably only be experienced while sailing – heavy clouds hiding before a clear blue sky and the inviting sun that made the waves shine in its warm light.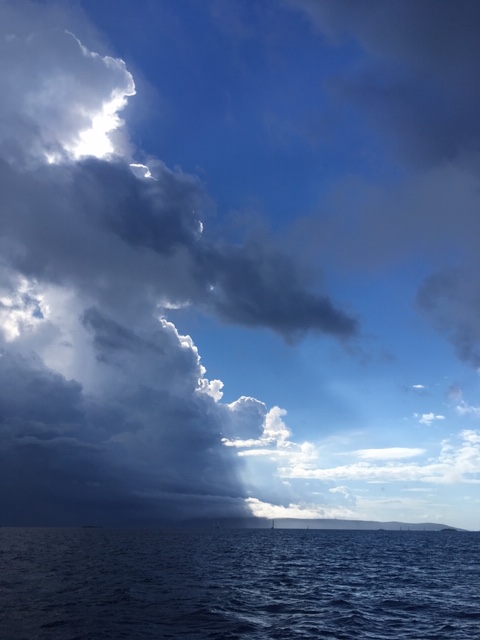 The moment the teams arrived at Palmižana, known for its nautical destination on one of Pakleni Islands, St. Clement, it seemed like the race rankings fell into another plan. In addition to the traditional measurement of sailing abilities, Ariane's Cup serves as an opportunity for informal learning, exchange of ideas and conclusion of potential co-operation between European companies in the space sector. Palmižana was our home for the night but before that it was a perfect evening to gather acquaintances, make contacts as well as check experiences and examples of good practice that companies could use for their own projects and potential new partnerships. We also met with some other teams from Croatia like Adriatic Aero Space Association and their team of scientists and entrepreneurs.
On the second day, our skipper Goran suggested to take us to Vis Island which proved to be a great idea because we had a very nice route to the island and everywhere we looked the view was mesmerizing.
I especially enjoyed this route because I noticed how the members of our team had the opportunity to talk more about internal processes and challenges they encounter in day-to-day activities and projects. I was glad to see that even though we were out of the office (and in the open sea :) ) we used the time to share experiences and it was sort of a team building for our two offices.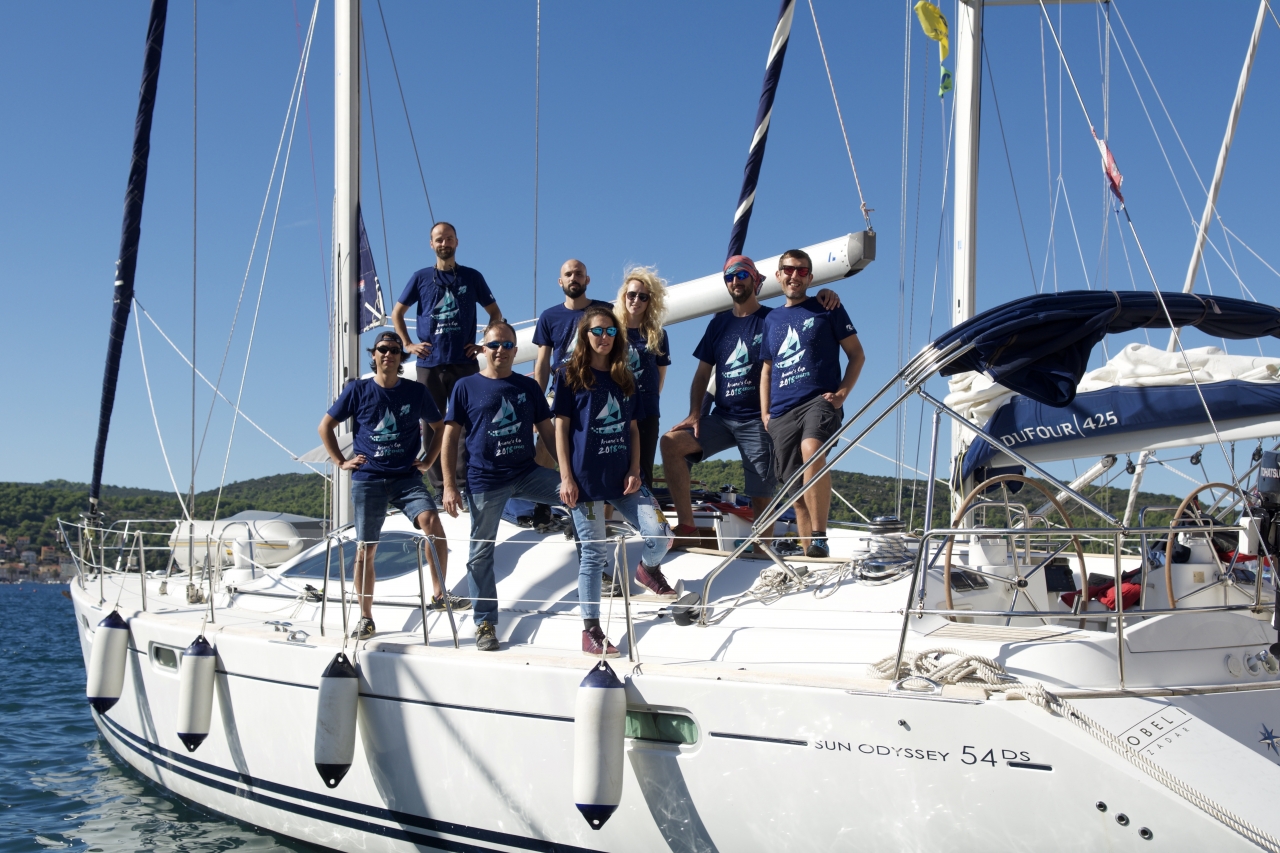 It felt like summer was back while we were sailing toward the island Drvenik Veli on the last day of the regatta. This time we sailed from Seget Donji and back which was our final route of the cup. Surrounded by more than a hundred sailboats, the view was spectacular and even though there were so many it looked like swans peacefully floating. Amazing!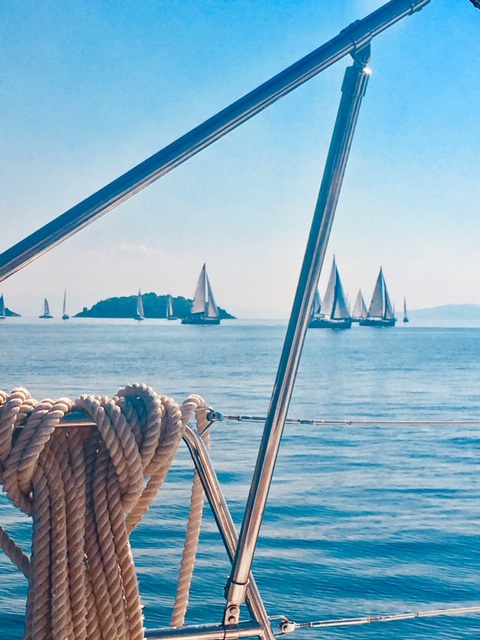 Four days of sailing went so fast but we experienced something that we will remember for a very long time. Ariane's Cup proved to be a perfect setting for the space industry to combine business and adventure while enjoying the beautiful nature. This time we tried our sailing skills but someday, who knows, maybe we will be the ones to take part in our first space sailing race. ;)
Congrats to the winner of this year's cup - Daimler! We wish you all many more great races!