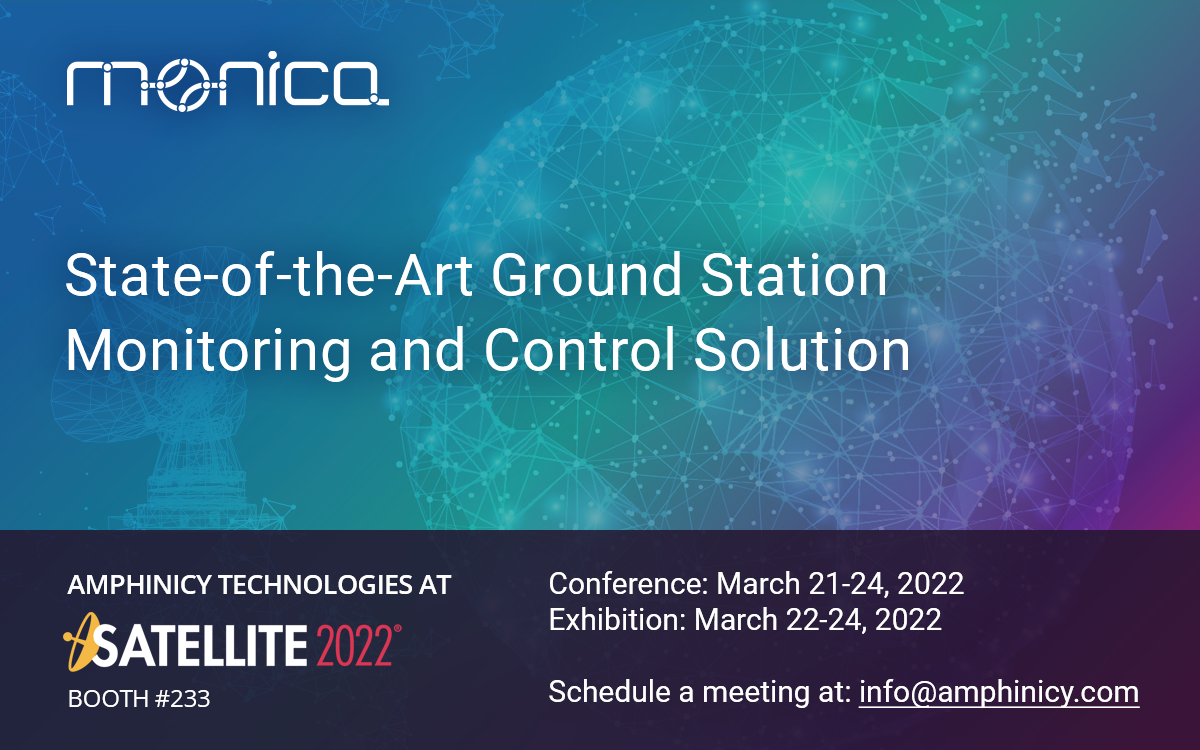 For the fifth time, Amphinicy Technologies is exhibiting at the Satellite Exhibition and Conference. The Show will take place March 21-24, 2022, at the Walter E. Washington Convention Center in Washington, DC. If you are there, visit us at booth #233!
In the meantime, take a few minutes to familiarise yourself with Monica, a modern monitoring and control solution for the satellite ground segment.
What is Monica?
Monica is a robust, secure, and reliable solution for large-scale monitoring and control of the satellite ground segment. It is completely cloud-ready, with a modular and responsive web-based interface, accessible from everywhere and from any device. 
By using a user-friendly on-the-fly driver editor, everyone can write a device driver which facilitates and speeds up the device integration. Both a drag-and-drop schema editor and dashboards enable a precise definition of how valuable information should be presented. Users can customize device interfaces that allow them to concentrate on the essentials and manage what interests them.
It's a multi-tenant system that permits fine-tuning of user rights and privileges and thus increases security while easing the work of multiple concurrent users.
Monica redefines how satellite ground segments are controlled and provides unimagined possibilities of network management and monitoring.  
Who is Monica for?
Engineers in the operation centers: Monica makes it easier for them to manage complicated devices and their user interfaces; it also automates the daily workload.

System integrators use Monica to connect different devices to one system and to manage and control the entire system using Monica's intuitive interface: with advanced features such as path highlighting (for visualization of related components) and mapped schemas (reusing the same schema multiple times in similar systems) this is all really easy and fast.

Earth station operators benefit from using Monica because it allows them to manage all their Earth stations from one place. In this way, they have an easier overview of all their devices from one place, using a familiar interface that can be easily accessed using a web browser, thus facilitating hybrid operation, and enabling better and more efficient network monitoring.
Telcos, ISPs, and network operators can utilize Monica as a powerful network management system. They can monitor and control a large number of devices in real-time, either on-site or in the cloud, behind firewalls, and in remote locations with limited access to the internet.

Monica is for anyone who wants to have a tool to make it easier to manage a portfolio of different devices, protocols, services, and wants to be able to find a problem in time - and not when it's too late.
Schedule an appointment at Satellite 2022, booth #233. Our representatives are waiting for you to give you more details and answer your questions.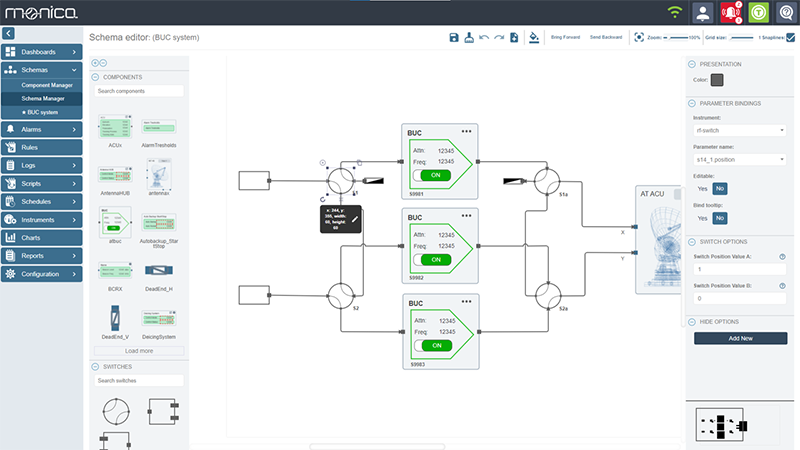 The company's participation at SATELLITE 2022 has been co-funded from the European Structural and Investment Funds (European Regional Development Funds, Operational Programme Competitiveness and Cohesion 2014 - 2020). 
The content of this article is under the full responsibility of Amphinicy Technologies.