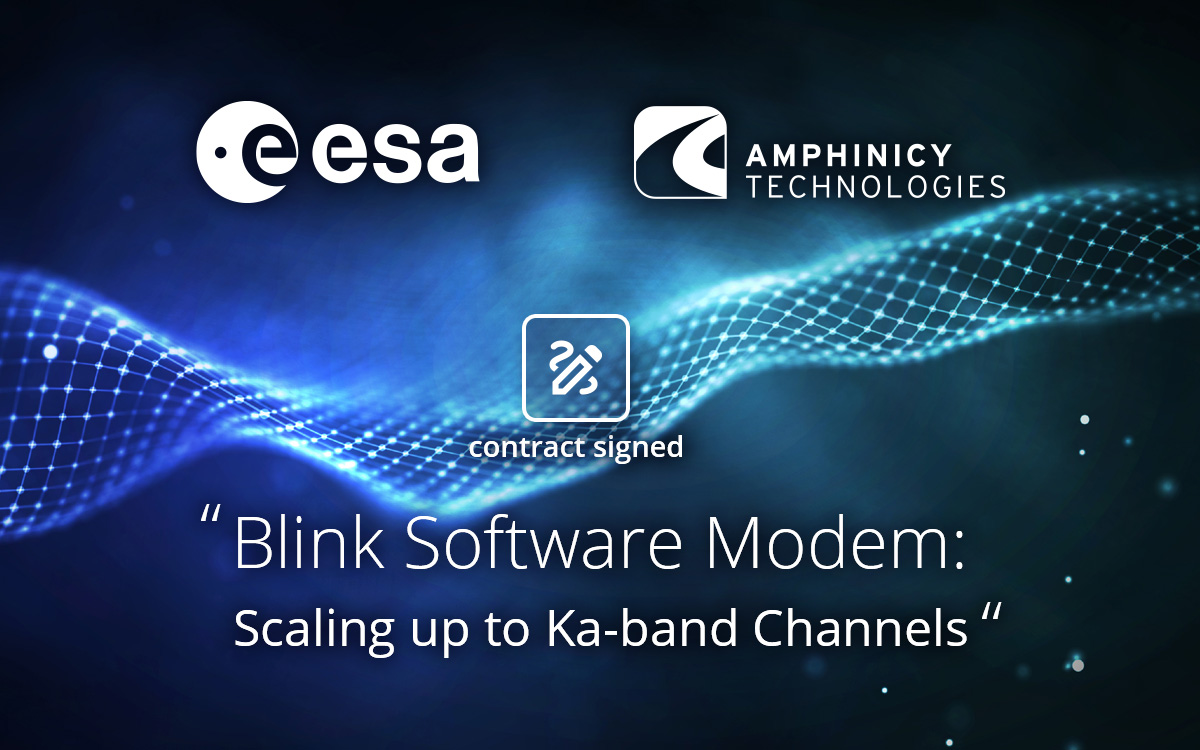 Amphinicy Technologies has signed a contract with the European Space Agency (ESA), in the scope of "First Call for Outline Proposals under the Implementation Arrangement with the Government of the Republic of Croatia."
We are delighted to announce that Amphinicy Technologies has signed a contract with the European Space Agency (ESA) for the project "Blink Software Modem: Scaling up to Ka-band Channels". The goal of the project is to increase Blink receiver throughput to support Ka-band communications, i.e. channels up to 1.5 GHz wide.
A number of satellite operators have expressed interest and announced plans of using Ka-band for communication, with speeds in the range of several Gb/s. Ground solutions currently capable of meeting such requirements are hardware-based. These solutions are accepted and broadly used by industry stakeholders for decades. However, they are not flexible, nor dynamic enough to follow the rapid growth of software-defined ground segment architectures (like for example cloud) and as such are not an ideal choice for future missions.
In response to these needs, Amphinicy has developed Blink: an innovative, real-time, high-data-rate modem that is completely software-based. It is used for ultra-fast Earth observation satellite payload acquisition, processing, and analysis, including the support for both CCSDS and DVB-S2 standards. It is specifically designed to run on, and with, commercial off-the-shelf (COTS) equipment. Blink has moved digital signal processing (DSP) from (traditional) custom-made hardware to software. 
With a current performance of 1,2 Gbps (a 360MHz DVB-S2 32APSK 9/10 signal) per channel, Blink is the fastest software modem in the world, supporting EO missions transmitting in S- and X-band. "We aim to increase these speeds and continuously improve Blink throughput. During this ESA project, we will scale Blink up to support higher communication bands.", says Tomislav Nakić-Alfirević, a Solutions Manager at Amphinicy Technologies.
About the ESA Tender
This is the first Invitation to tender (ITT) in the scope of collaboration between ESA and Croatia. The cooperation has officially started in February 2018, when the Ministry of Science and Education of the Republic of Croatia signed a Cooperation Agreement with ESA and set a legal framework for cooperation in the field of research, a peaceful use of outer space, and the conditions for implementing projects of mutual interest.
ESA combines nearly all areas of space activities with a budget of 7,15 billion Euro for 2022. The fields that were included in this ITT were Earth observation, space technology, space safety, astronomy, and astrophysics, including solar system exploration as well as education and awareness activities. Croatian applicants had a chance to submit proposals in five activity types: preparatory activities, awareness activities, research and development activities, flight-segment related activities as well as space (downstream) applications. 
"Working on a project directly with ESA is an important achievement for us and an obligation to justify both their and our expectations. It is a great opportunity to further improve our Blink satellite modem. We are sure that collaboration with ESA will bring new business opportunities in the near future." says Toni Jelavić, CEO at Amphinicy Technologies.
Feel free to reach out for more information. 
#ESA #AmphinicyTechnologies #Blink #SDR #Cloud #Software #Satellite #NewSpace 
Notice: This project will be implemented under a program of, and is funded by the European Space Agency. The view expressed in this publication is the sole responsibility of Amphinicy Technologies and can in no way be taken to reflect the official opinion of the European Space Agency.