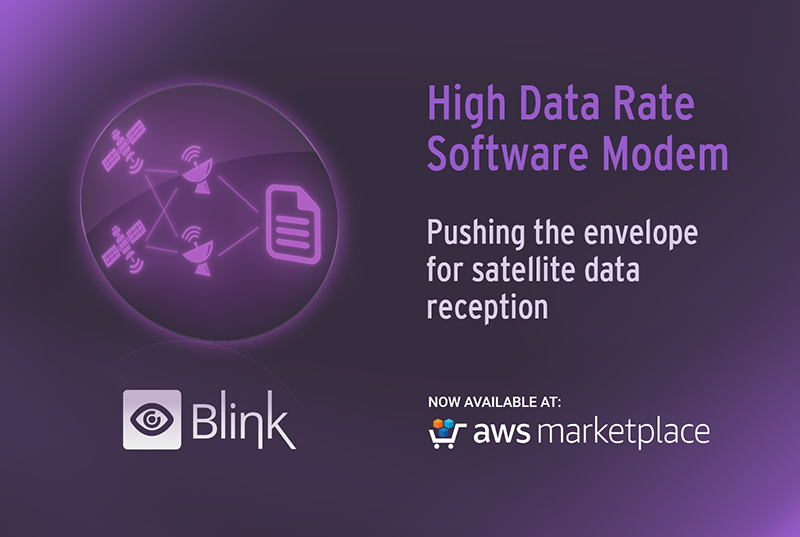 Amphinicy Technologies is excited to announce the release of a cloud-native distribution of Blink, an ultra-fast satellite modem for Earth observation and space science. Blink AMI (Amazon Machine Image) is an ideal choice for satellite operators who prefer to integrate a software modem with their existing cloud orchestration systems to receive, process and store satellite data in a reliable, efficient, and convenient way. Blink AMI is now available in the AWS Marketplace. The link at the end of this article shows you how to start using Blink in just a few clicks on the AWS console.
Blink is a software product for modern satellite ground stations. With the space segment evolving, Earth observation satellites are equipped with more and more sophisticated sensors. Every day, they produce hundreds of gigabytes of data invaluable for different applications such as food and energy production, security and disaster management, transportation, meteorology, climate change monitoring, and many more use cases.
There are numerous challenges for customers who need to quickly downlink, process, and manage huge amounts of satellite data:
… How to receive these data in a convenient and user-friendly way?
… How to reduce latency in data reception and lower capital expenditure on the ground segment?
… How to make data available in a convenient way for downstream processing, machine learning and data distribution?
… Is it possible to pay only for the time the product or service is in use?
The answer to these challenges in the Earth observation value chain is in cloud infrastructure and services.
Amazon Web Services (AWS), a subsidiary of Amazon, is providing on-demand cloud computing platforms and APIs to individuals, companies, and governments, on a metered pay-as-you-go basis. AWS has advanced computing centres across the planet and a high-throughput network which connects them. When the company announced AWS Ground Station in 2018 it sent ripples through the global satellite industry. "Sure, ground station services existed before, but nothing even close to an on-demand, pay-per-minute service such as that provided by a cloud-native ground station network with antennas all around the world." says Tomislav Nakić-Alfirević, Solutions Manager at Amphinicy Technologies. "At that time, we were already developing Blink, a high-performance signal processing solution built in software, which fits perfectly in the new ground station paradigm."
AWS Ground Station is a fully managed service that lets customers control satellite communications, process data, and scale their operations without having to worry about building or managing their own ground station infrastructure. With AWS Ground Station, customers have direct access to AWS services and the AWS Global Infrastructure including a low-latency global fiber network. To learn more, please visit https://aws.amazon.com/ground-station/.
The rich cloud infrastructure makes it possible to run software demodulators, as well as a range of satellite data post-processing, to which artificial intelligence-based algorithms and cloud archiving or the export to customers can be applied. An exhaustive list of functions is explained on https://blink.amphinicy.com.
For satellite operators currently running their operations in the cloud and those who are transitioning to the cloud, the new cloud-native version of Blink from Amphinicy Technologies offers many benefits such as high performances, scalability, ease of use and cost effectiveness.
Blink is a real-time, high data rate, software-based satellite modem designed to run on standard servers. It moves digital signal processing from high-maintenance hardware to software. It can run on bare metal such as standard server or laptop, or virtual and cloud environments. Blink can bring previously impossible missions to life and make missions generally easier to manage, more productive and cheaper to set up and evolve.
"The need for (custom) hardware in Earth Observation payload acquisition is reduced to the bare minimum. A commercial-off-the-shelf RF digitizer/SDR and a server with Blink software is sufficient. The freedom in hardware upgrades and replacements and the overall evolution ease and speed of such a software-based system is incomparable to what the industry was used to by now." states Irena Kos, Product Manager at Amphinicy Technologies.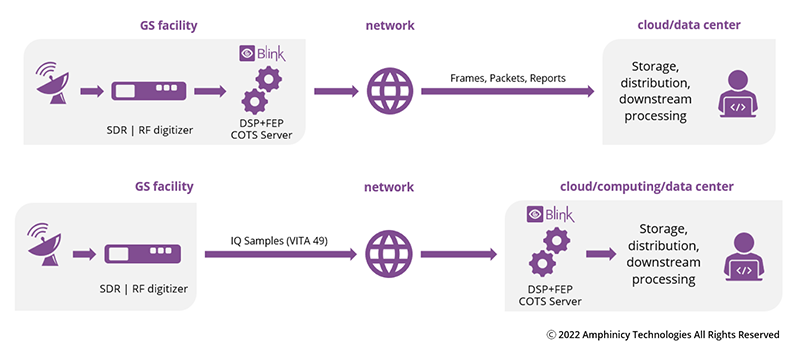 Finally, we shall mention a platform from which customers can access Blink – AWS Marketplace. While software can be deployed in the AWS cloud by default, the AWS Marketplace takes it a step or two further. The AWS Marketplace is a lot of things at once: a way to pre-package software for simple deployment and use, a platform for customers to find software and familiarise themselves with it, and a billing system. It provides a rich selection of database systems, application servers, business applications, developer tools and many other types of software. 1-Click deployment makes the software easy to employ. The system automatically meters use and sends invoices to a customer only for the time the customer used a particular product.
"We are dedicated to offer the best support to our clients. With Blink at AWS Marketplace, our solution will be available to even more engineers and communities. We are here to support them." says Toni Jelavić, CEO at Amphinicy Technologies.
Find Blink at AWS Marketplace
Check out the Blink AMI listing here (https://aws.amazon.com/marketplace/pp/prodview-bqok5wmschgdg). Our team can guide you during the setup process and can answer all your questions. Please contact awsmarketplace@amphinicy.com for more details.