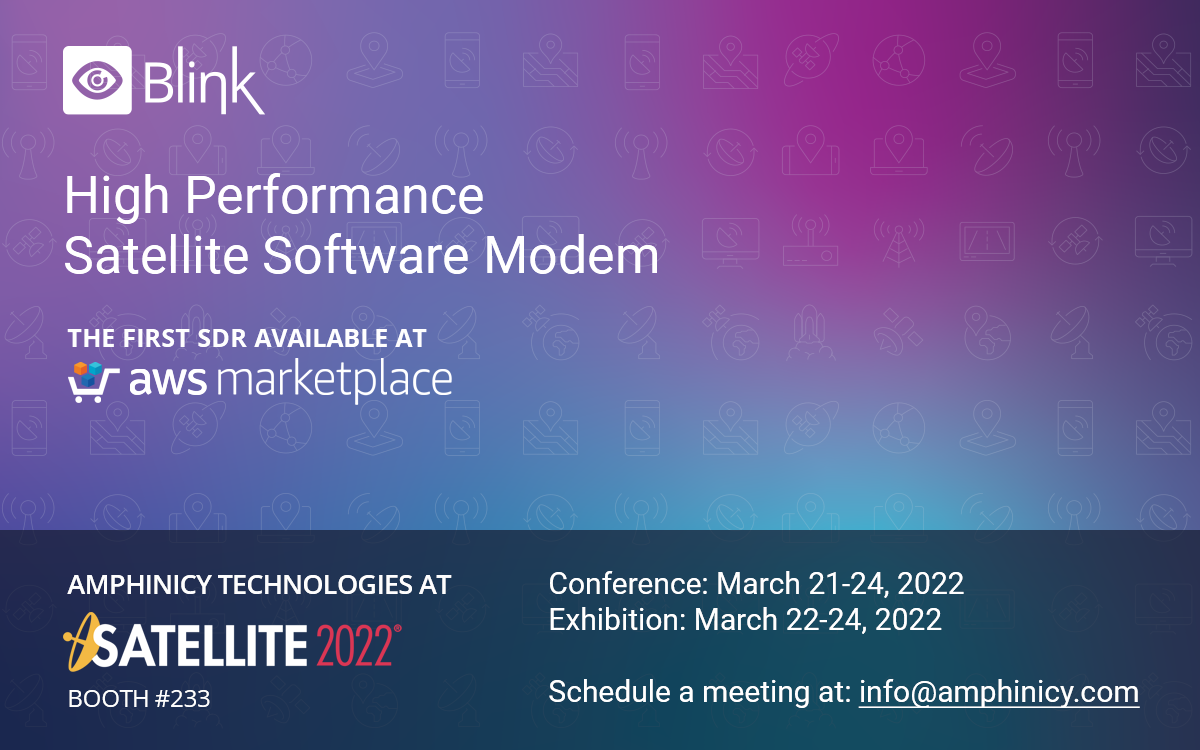 For the fifth time, Amphinicy Technologies is exhibiting at the Satellite Exhibition and Conference. The Show will take place March 21-24, 2022 at the Walter E. Washington Convention Center in Washington, DC. If you are there, visit us at booth #233!
In the meantime, take a few minutes to familiarise yourself with Blink, our high-performance satellite software modem.
What is Blink?
Blink is a new kind of satellite receiver for Earth Observation and related applications. It is a pure software modem, taking in a digitized signal and outputting payload data as frames and packets. It can exceed 1 Gb/s throughput in near real-time, supporting channels as wide as 400 MHz on a single server - a feat no other software receiver is capable of. It provides robust support for DVB-S2 and CCSDS protocols, verified with 10+ operational missions.
Under the hood, Blink is a software framework for signal and frame processing logic, making it extremely adaptable, with short lead times and at a very competitive cost. Its architecture makes it easy to deploy it in a cloud for a dynamic, global, on-demand ground segment. The Blink AMI image available in the AWS Marketplace is a really simple way to get started. It's a great fit for typical ground stations, too: a server running Blink is deployed instead of a conventional satellite receiver, providing the same record-breaking throughput, extensibility, and cost-effectiveness.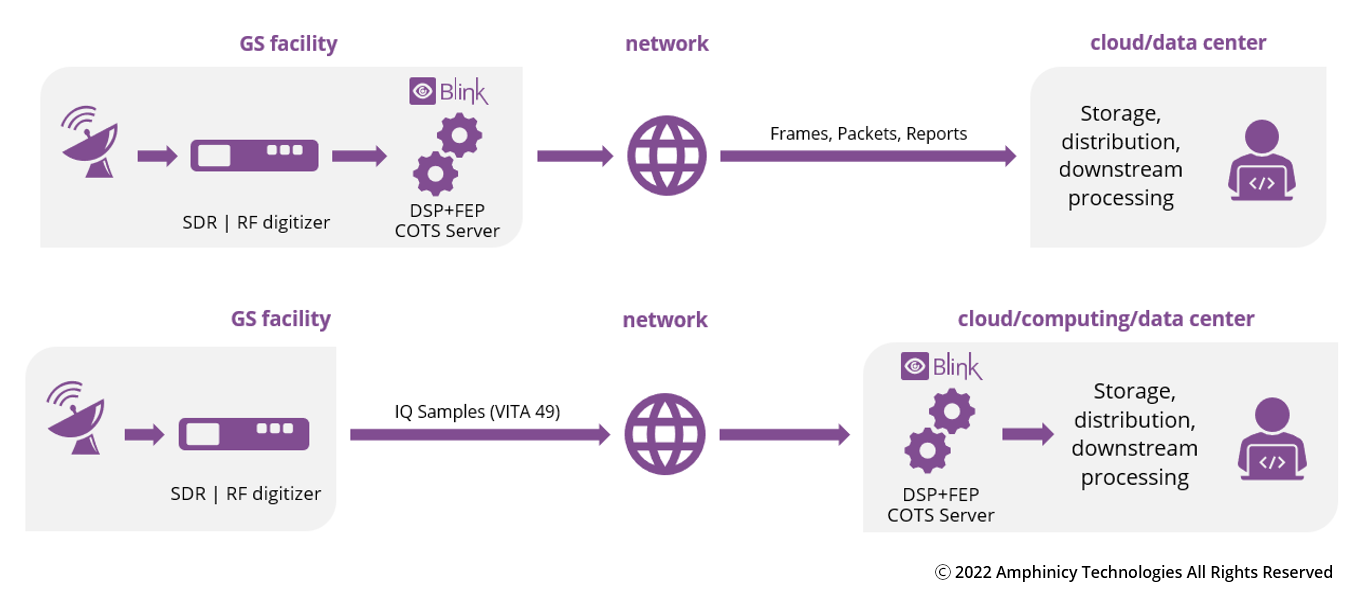 Who is Blink for?
Large agencies consistently push the envelope in a satellite assembly, integration, testing, and validation, before and after launch. Blink provides some of the most advanced capabilities to test satellites. It comes with a modulator capable of generating signals using known data and simulating various channel effects. At the end of each reception, a self-contained, advanced HTML data reception report is produced. It covers everything from global reception summaries to per-anomaly packet header details, from individual signal readings (e.g. Eb/No, gain) to constellation and frequency spectrum diagrams.
Ground segment operators supporting multiple missions enjoy a much simpler ground segment: no mission-specific hardware and a single M&C interface for a wide variety of missions or multiple generations of spacecraft.
Mission and constellation operators can expect a solution that they can use at conventional ground stations, in any cloud, or in a mixture of all of these, that can scale to meet the needs of rapidly growing constellations and that can easily evolve faster than mission requirements.
Operators operating on a budget or flying prototype missions benefit from Blink's pay-per-use licensing model. Coupled with "ground-station-as-a-service", operators get a "just works" payload reception system so that they can focus on the rapid evolution of their spacecraft.
In a nutshell, Blink can bring previously impossible missions to life and make missions easier to manage, more productive, and costs less to set up and evolve.
Schedule an appointment with our team at Satellite 2022, booth #233. Our representatives are waiting for you to tell you more and answer all your questions.

Notice: AWS Marketplace and the AWS Marketplace logo are trademarks of Amazon.com, Inc. or its affiliates. All rights to the Trademark are the exclusive property of Amazon.
The company's participation at SATELLITE 2022 has been co-funded from the European Structural and Investment Funds (European Regional Development Funds, Operational Programme Competitiveness and Cohesion 2014 - 2020). 
The content of this article is under the full responsibility of Amphinicy Technologies.